This is a remarkable project, placing contemporary artworks in historical buildings in Burgundy, in and around Beaune. I had the chance to visit two venues, the Old Theatre in Beaune and Maison de Pommard, two places which could not be much more different.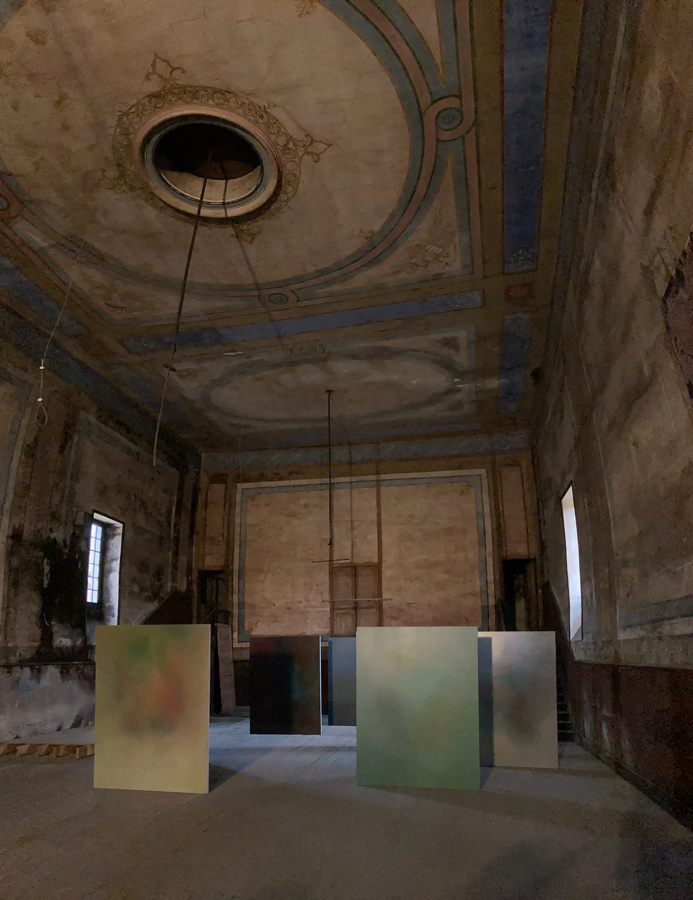 The Old Theatre has been used for a very long time for other things than staging plays. In fact since the 1860s it has apprently mainly served as warehouse. Interestingly, it still bears the interior decorations of a theatre, but is otherwise in a quite derelict state. On the outside, nothing indicates a theatre, the second part of the inscription above the portal "Salle des" is missing. Specifically for this place, Chiara Capellini has created seven paintings which were set up like a forest or a stage setting ("Landscape of thoughts"): large canvases in cloudy blue-greenish colors, sometimes hinting at vague notions of an out-of focus object. Too bad that the light on this gloomy November afternoon did not do much to help these paintings shine. The light installed in the room was unidirectional and glary, creating reflections on the surfaces. Otherwise, the interplay between the art and the environment is striking, also for the paintings by Roméo Mivekannin and Gregory Hodge in the upper hall.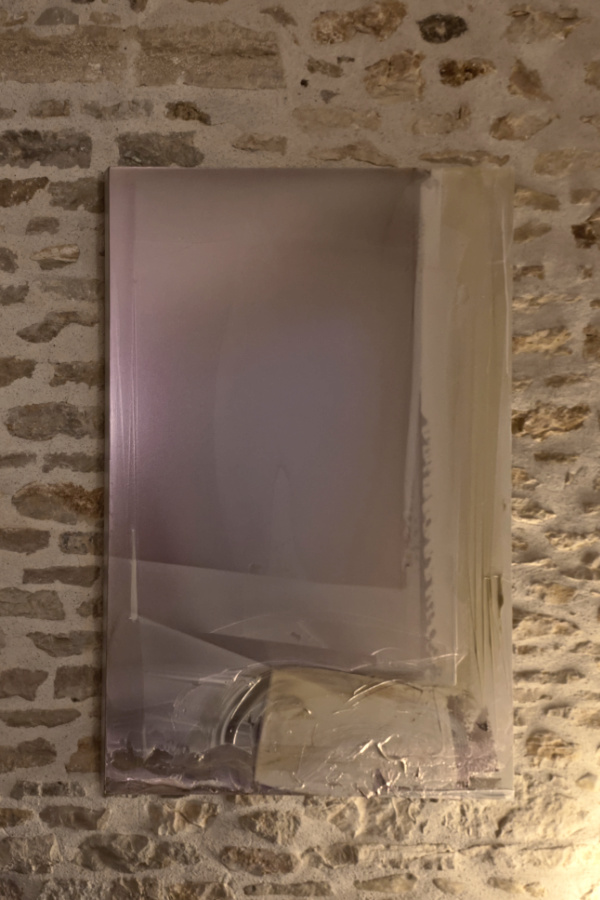 Maison de Pommard, on the other hand, is a wonderfully renovated ancient building, harboring a stylish but cozy boutique hotel. Art is placed throughout the building, for instance two bright abstract canvases by Zarah Cassim and Linda Lockshin, respectively, in the breakfast area. One work by Matt McClune especially caught the attention. The artist used resin containing pigments made of Burgundy minerals as a paint, which is applied and structured by scraping with a squeegee. The process creates an exquisitely smooth surface (contrasting nicely with the rough stone masonry of the wall) and iridescent hues sometimes changing with the illumination. By the way, the artist, American-born and living in France, is also active in coffee-roasting.
This is a highly subjective small selection of the artworks presented. More information about the artists and curators can be found on the project website and in the highlights brochure, or ocula.com with better photographs not taken on gloomy days…